Fresh posy
Looking for the perfect way to express your love and appreciation. Look no further than our fresh and vibrant flower posies!
Order now and let us help you make someone smile
Order Now
Hey flower friends
Nice to meet you! My name is Sophia Jean, and I am a passionate florist who delights in creating stunning floral arrangements. I draw inspiration from the beauty of the natural world and strive to incorporate sustainable, eco-friendly options into my work whenever possible.
Whether you're planning a wedding, hosting a special event, or simply looking to add a touch of beauty to your home or office, we are here to help.
Contact us here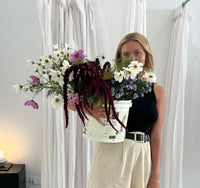 Sizing
s.
small/smɔːl/ 
adjective 1.of a size that is less than normal or usual."the room was small and quiet"
m.
medium/ˈmiːdɪəm/ adjective adjective: medium about halfway between two extremes of size or another quality; average.
l.
large/lɑːdʒ/
adjective 1. of considerable or relatively great size, extent, or capacity."add a large clove of garlic"